BayOne Celebrates Its 10-Year Anniversary; Announces Three New Leaders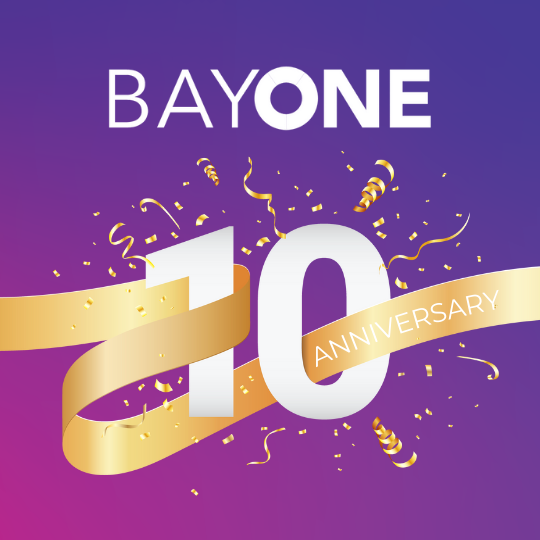 BayOne is proud to celebrate ten years of business as a trusted Talent Solutions Provider in the San Francisco Bay Area. BayOne has helped hundreds of customers, including dozens of Fortune 500 customers, build teams. BayOne operates in more than 35 US states, Canada, and India. The company continues to grow, having been recognized five times by the San Francisco Business Times Fast 100 list and four times on the Inc 5000.
"Our success comes from trust, teamwork, and relationships. Thank you to all our customers, employees, and associates for getting us here, and we look forward to building the next decade at BayOne," says Rahul Sharma, president of BayOne.
On the occasion of the tenth anniversary, BayOne is proud to announce three new leaders to continue BayOne's growth. BayOne welcomes Sonia Seth as SVP of People Engagement, Denise Lombard onto the Board of Advisors, and Raju Chukkana as the new Managing Director of BayOne Telecom.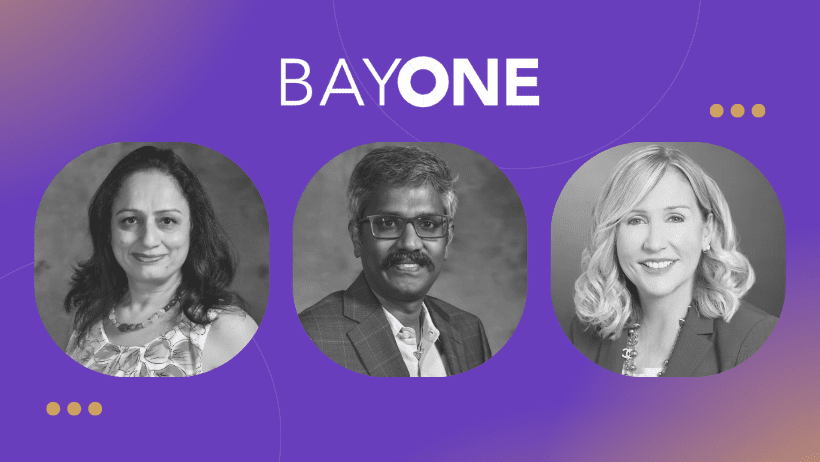 Sonia Seth, SVP of People Engagement
BayOne Solutions announces Sonia Seth as its SVP of People Engagement.
Congratulating the newly appointed CEO, Yogesh Virmani, co-founder of BayOne, says, "People have been the integral part of our organization. We couldn't have picked a better person than Sonia to build a trailblazing employee engagement program. I am certain that our employees will thrive under Sonia's counsel."
With 20+ years of experience in the computer software services industry, Sonia is a strong business development and talent management professional skilled in talent acquisition and management, human resources, customer relationship management, and strategy. Previously, she was the Vice President of US business of Global Logic. Her responsibilities included expanding the company's footprint in the North American and Canadian regions to facilitate US business growth.
"BayOne has come a long way over the last ten years. My focus at BayOne will be to strengthen our employee 360 program and launch an employee outreach initiative along with my colleagues from the delivery and sales organization. Our goal is to set the team up for success in the next ten years and beyond with world-class Employee Engagement and People Operations." Sonia comments on her appointment.
Denise Lombard, Board of Advisors
BayOne announces the appointment of Denise Lombard to the Board of Advisors. BayOne strongly believes in recruiting and empowering women and doing its bit to bridge the gender gap in tech. Unfortunately, the boom in high-paying, high-tech jobs has not been equally shared. Since 2019 BayOne has been running the #MakeTechPurple initiative to bring more women into the tech workforce through re-skilling cohorts, webinars, and meetups.
BayOne founder Rahul Sharma welcomes Denise Lombard with this message, "Denise is a dynamic and innovative leader with extensive global experience. We've invited her to our Board of Advisors to further guide our company in our mission to advance gender diversity in the workforce. We look forward to a great partnership built on common goals of advancing diversity, equity, and inclusion."
In her role as the Director of Supplier Diversity, Risk & Ethics, Global Procurement Services at Cisco, Denise was responsible for Cisco's supplier diversity program, where she provided development opportunities for women, minority, veteran, and disabled veteran-owned businesses. In her sixteen years with Cisco, she led teams through transformations across several business functions, all adding to her breadth of knowledge in the industry. In addition, she is highly passionate about giving back to the community. Her advocacy includes being a Court Appointed Special Advocate for Maricopa County's CASA organization to provide critical advocacy for children in foster care that have been abused, neglected, or abandoned. She co-led the San Jose Connected Women's Community Outreach Pillar, which is focused on helping young women toward STEM careers, and she worked closely with Girl Scouts and Citizens Schools.
Raju Chukkana, Managing Director of BayOne Telecom
Raju Chukkana will lead BayOne's Telecom business as the Managing Director. Raju has over 20 years of experience in various fields of the telecommunication sector, owing to which he has acquired a wealth of knowledge in the field of RF and Systems Planning, System Engineering, Field Implementation, Customer Support, and Projects Delivery all over the globe.
"I am thrilled to welcome Raju to the BayOne family," says BayOne co-founder Yogesh Virmani. "He is the perfect leader to drive BayOne Telecom to new heights because of his international success, breadth of experience, and enthusiasm for working with us."
Most recently, Raju was AVP of technical solutions and delivery at QuadGen. Before that, he served as the Country delivery manager for Aircom International and was the RF Lead at Nokia.
"Knowing the value of the skills and expertise needed to deliver challenging and crucial projects, operations, and solutions, I joined BayOne because I could see the tremendous potential in the organization. The caliber of our people and the force of our culture have truly impressed me," says Raju.
About BayOne
BayOne is a minority-owned Talent Solutions Partner based in the San Francisco Bay Area, and we have a passion for diversity in the Tech Industry.
We help companies build teams. We specialize in the following domains: Project & Program Management, Cloud Computing & IT Infrastructure Management, Big Data Services, Software & Quality Engineering, and User Experience Design.
We help companies to solve their talent gap by providing qualified experts on demand, training their legacy workforce on future technologies, and automating their business processes. We are a customer-centric organization, and 90% of our business has been referral business. We are a metrics-driven organization focusing on compliance and meeting clients' core business KPIs. We have an Employee360 program to engage, retrain and train our contract employees for future skills.
Please reach out to marketing@bayone.com for comments and reactions.